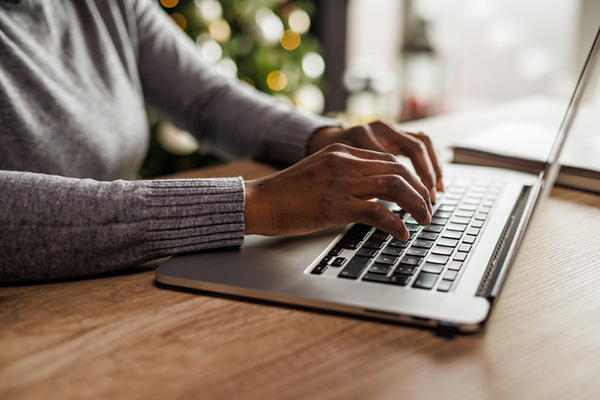 The holidays can be a stressful time. So can flu and cold season. With the MDLIVE® Virtual Visit benefit*, you can ease that stress by speaking to a physician or licensed therapist from the comfort of your own home.
Thank goodness your health plan's covered benefits may now include virtual visits through the new and improved Hally® member account and MyChart mobile app*. It's never been easier to check in with a doctor or therapist anytime, anywhere for your healthcare needs.
Virtual visits connect you directly to doctors whom you can talk to 24/7 from your home, hotel room or anywhere you have internet access. Thanks to the services of MDLIVE, board certified doctors are available around the clock, so you can schedule appointments to fit your busy schedule.
Especially when traveling over the holidays, finding a local urgent care clinic can be difficult. With virtual visits, you can easily access care anywhere. But under what conditions should you use virtual visits?
Does your child pink eye? Are cold or flu symptoms persisting when you can't afford to let them get you down? Seasonal affective disorder threatening to darken your holiday mood? Feeling anxious over an upcoming family get-together, and need to talk to a therapist between your regular sessions? Virtual visits are perfect for all those circumstances!
Anything more serious, but still relatively minor, like simple cuts or falls, insect bites, etc., calls for a visit to the nearest urgent care clinic. More serious injuries or blood loss, broken bones, chest pain, shortness of breath, stroke symptoms, etc., require immediate treatment at a hospital emergency department. (For more information, check out the Know Where to Go chart here.) But wherever possible and appropriate, scheduling a virtual visit can save you time, money and hassle!
How do virtual visits work?
They're simple, secure and easy to use. Here's what you need to know:
Virtual visits are available through your MyChart app at any time of the day, any day of the year, including holidays, from anywhere you have phone or internet connection in the U.S.
They're suitable for the whole family, and pediatricians are available.
You can use your phone, laptop or desktop computer for virtual visits. It's up to you.
Virtual visits aren't for every medical situation, but they're great for diagnosing and treating more than 80 of the most common conditions, including cold, flu, sinusitis, bronchitis, pink eye and strep throat.
Virtual visits' privacy and security make them ideal for mental health and therapy checkups as well.
Virtual visits are less costly than going to urgent care or the emergency department. However, always visit the emergency department for all serious conditions and call 911 for all emergencies.
How do I make a virtual visit?
To start using virtual visits, first be sure you've created a Hally member account (for your health plan). If you haven't already created a Hally member account, visit here to learn how to create your account and how to download the MyChart app. Then, you'll need to register your free virtual visits account. You can register for this account and begin your first virtual visit in one of three ways:
Visit hally.com/care, scroll down to Virtual Visits and click Get Started. Then sign in with your Hally member account username and password and follow the steps.
Open the MyChart app on your mobile device and log into your Hally account. Under Find Care, choose Virtual Visits.
Call (888) 912-0904.
Once you've registered, you and your covered family members are all set. When you're ready to schedule your first appointment, simply visit hally.com/care or open your MyChart app and follow the same steps as above. It's easy, and you'll be chatting with a doctor or therapist in no time.
Any questions? Simply call us at the number on the back of your health plan ID card. Virtual visits are just one of the many ways we help you and your family live your healthiest lives. We're here for you!
* All benefits aren't available on all plans or to the general public. Call us at the number on the back of your health plan ID card to see if your plan includes the MDLIVE Virtual Visit benefit or other MDLIVE virtual visits.
PHMBGN23-MDLiveQ4blog-1023
Y0034_23_115700_C