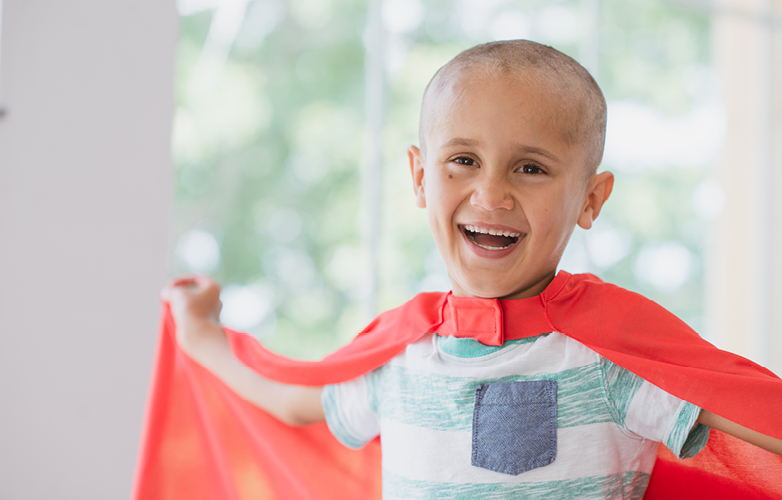 Cancer is hard for anyone to deal with. For children and teenagers it's often even more stressful, emotional and difficult. Since September is Blood Cancer Awareness Month – a time to raise knowledge, support and awareness of leukemia and lymphoma – we're offering some tips for parents, guardians and caregivers on how they can help a child facing these or other cancers.
Leukemia and Lymphoma
Leukemia and lymphoma are types of cancer that affect the blood or bone marrow, according to the American Association for Cancer Research®. Leukemia develops in tissues that form blood, while lymphoma begins in the lymph system (a part of the immune system). In the U.S. alone, over 60,000 people are newly diagnosed with leukemia, and more than 81,000 with lymphoma, every year. This includes both children and adults. According to the AACR, leukemia's the most common cancer in those under 15 years old.
How Cancer Affects Children and Teens
The Leukemia & Lymphoma Society® provides great resources to help adults understand what children and teens with cancer are experiencing and feeling. Their entire webpage is worth a deep dive, but here are the basics you should know:
Children often experience a variety of emotions when dealing with cancer. Anxiety, fear, anger, guilt and sadness are all common – sometimes in quick succession.
They'll also need help becoming familiar with the new – and perhaps strange and scary – environment of hospitals, doctors, nurses, and medical tests and procedures.
It's easy for them to feel a loss of control over their lives and their world.
How You Can Help
If your young loved one has cancer, the Society gives great advice on how you can be at their side and help them during this difficult journey:
To help them adjust to the changes in their life, keep an always supportive yet matter-of-fact attitude.
Give them structure. In whatever ways you can, bring predictability into their lives, even in simple ways. Whether at home or in the hospital, try to plan a regular routine to follow.
Let them make choices whenever possible. Even getting to decide what show to watch or food to eat can help them gain a reassuring sense of control in their life.
Use touch to provide comfort – hold, rock and hug them often.
Respect their feelings when they're angry, sad, fearful or anxious. Give them appropriate outlets for expressing these feelings – for example, art supplies to sketch out or a journal to write down their emotions.
Keep them busy with activities that take their mind off difficult and uncomfortable things. This is especially important during long hospital days.
Make sure to keep them connected to their friends their age. When at the hospital, use phone calls, video chats and even written letters.
Seek out support groups for children with cancer. Find ones at your hospital, in your community or even online. It helps when they can connect with others their age facing the same journey.
Encourage play, even during difficult days. A little light and cheer can help them escape – or simply have fun – on the days they most need it.
No one should face cancer alone – especially children and teenagers. If you have a loved one in your life with leukemia or lymphoma, be that support they need. You can bring love and comfort – and make a true difference.
To learn more about leukemia and lymphoma – in children and adults – check out these links: