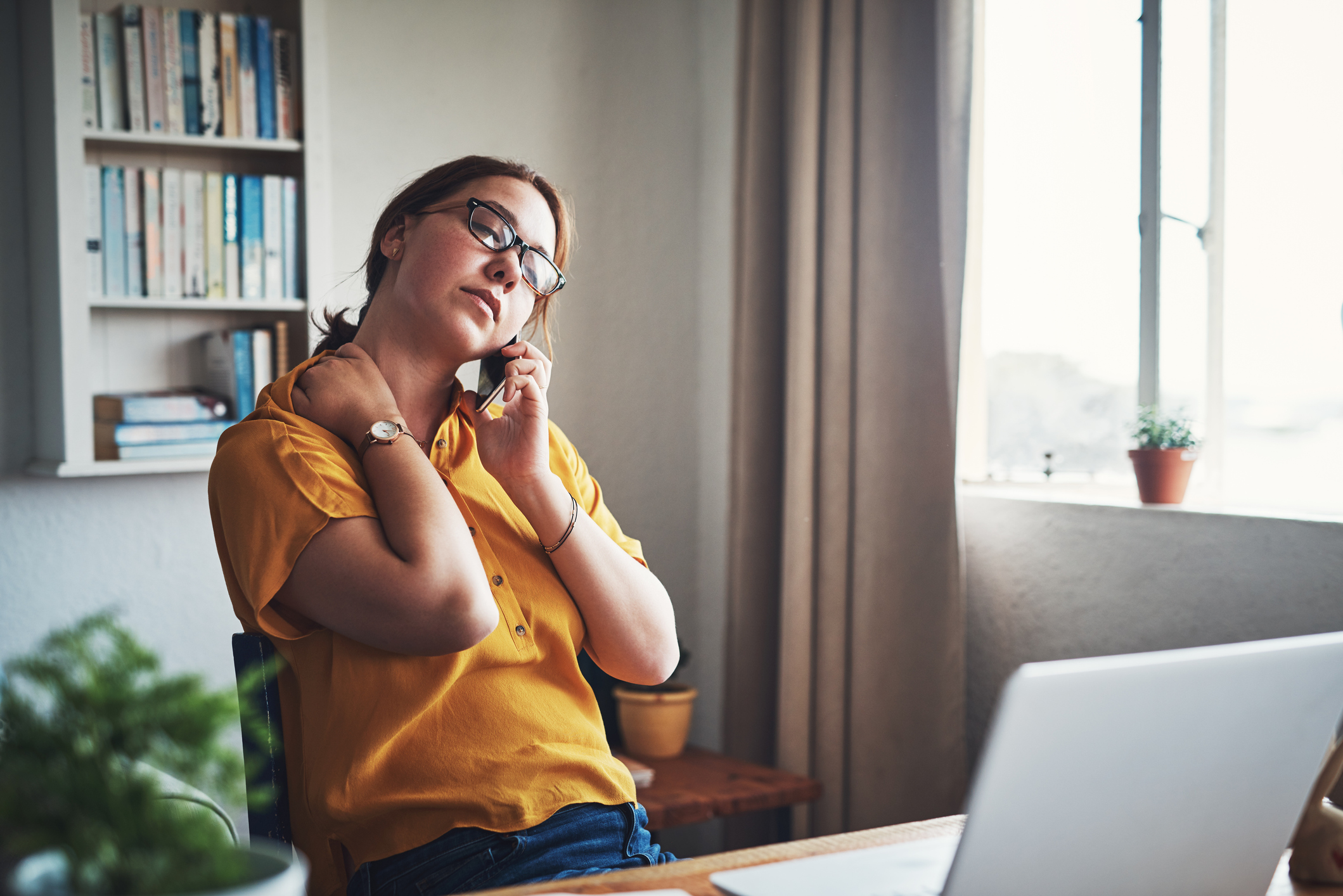 Manage and control workplace stress.
If your job brings you stress, you're not alone. In fact, the workday is a top source of stress, anxiety and worry for many men and women. And with the ongoing pandemic and changes to many of our workplaces, it definitely hasn't gotten any easier the past year. But while almost all of us need to work, it doesn't mean we need to worry. Whether you're working from home or onsite, here's a little about workday stress and how to manage it.
Stress isn't harmless.
We all know stress isn't fun – but it also can harm our physical, mental and emotional health. According to The American Institute of Stress, high levels of job stress can increase our risk of heart attack, hypertension, back and neck pain, depression, anxiety, substance abuse and other issues.
We all face some level of stress at work, so it's important to recognize when everyday stress starts becoming something more. Here are some common signs that workday stress might be affecting your well-being:
Tiredness and irritability.
Headaches, nausea, aches and pains.
An excessive, repetitive or abnormally strong dislike of work or desire to skip work.
Indecisiveness, poor judgment or an increased number of mistakes at work.
Be aware of common stressors.
Stress might seem daunting, but it's something we can control. The first step is recognizing what causes our stress. It's different for each person, but workday stress is often caused by:
Large workloads.
Issues with co-workers, managers or others.
Lack of control over job-related decisions.
Changes to our workday, workload or work environment beyond our control. This has been especially true during the pandemic.
Work that's repetitive, unengaging or unchallenging.
Limited opportunities for advancement or growth.
Low salaries.
Lack of job security.
If we know the main sources of our stress, we can take steps to manage it.
De-stress during the workday.
Even in the middle of stressful days, we can do things to help lower our levels of worry and anxiety:
Take short breaks. Use these to relax, refresh your mind and refocus.
Get up from your desk or workplace and take a short walk. If the weather's nice, go outside and get fresh air.
Take a few moments to stretch, which eases muscle tension and gets your blood flowing.
Play soothing background music while you work.
Find a co-worker to chat with, whether about work or something else entirely. However, avoid complaining about work, as this just increases your negativity in the long run.
See if your company has an employee assistance program (EAP). EAPs offer great resources for managing stress, including – in many cases – free counseling, informational resources and more.
Take these actions too.
Even when you're not working, there are things you can do to help manage your overall levels of stress:
Make sure you're getting enough sleep at night.
Eat healthy foods that help fight stress – such as berries, whole grains, and green, leafy veggies – and drink green tea.
Get enough physical activity. Exercise releases tension, boosts your energy and helps counter anxiety and depression.
Find healthy coping practices you enjoy, like meditation, yoga or reading.
If you're working from home, make an effort to separate your workspace from your living spaces – both physically and mentally.
Most importantly, remember to set a healthy work-life balance and know you're not alone in facing workday stress. Figure out what's causing your worries, try the above tips and stay optimistic. Work doesn't have to prevent you from living your happiest, healthiest life. You got this!
For more information: