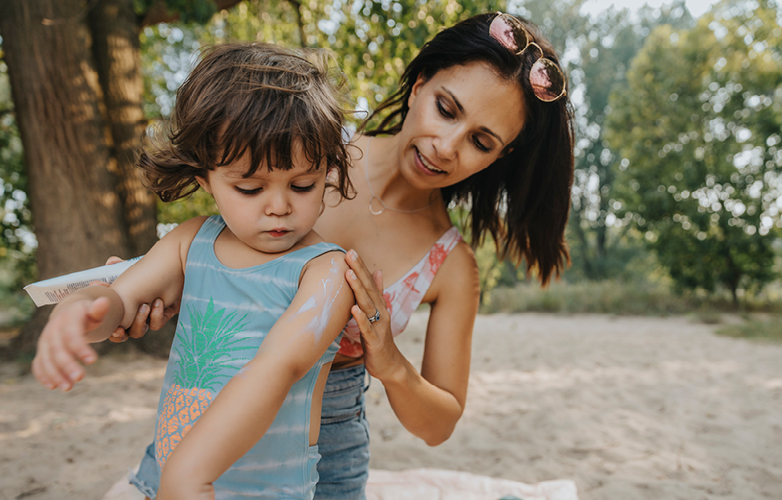 Tips, Info and More
Summer – it's one of the best times of the year, especially for those of us who love being outside. Whether you enjoy the beach, picnics, sporting events, hikes or any other type of outdoor fun, make sure you keep your eyes protected from the sun this summer. Here's what you need to know.
UV Radiation
The sun gives off ultraviolet (UV) rays, which can affect us in many different ways. In small amounts, sunlight can help our health and wellbeing. According to the CDC and American Academy of Ophthalmology, our bodies create vitamin D when we're exposed to sunlight and it can also help us sleep better. There are other benefits too.
However, too much sun can be harmful – to our eyes, skin and more. For our eyes, getting too much UV light can raise our risk of cataracts, eye cancers, abnormal growths, and other eye diseases and conditions.
Be smart – protect your eyes.
This summer and beyond, make it a point to protect your eyes and those of your loved ones. You can still take part in all the outdoor fun, but with a safe approach that keeps health top of mind. Here are some tips!
Wear sunglasses – and wear the right type. According to the American Optometric Association, get sunglasses that:

Block out 99 to 100% of both UV-A and UV-B light (two different types of UV rays).

Screen out 75 to 90% of visible light.

Have gray-colored lenses that aren't damaged or distorted.
Ask your eye doctor if you need help or recommendations finding the best sunglasses for your eyes.
Wear a wide-brimmed hat or baseball cap.
Never stare at the sun.
Find shade. Hike on forested trails, remember your beach umbrella and pick a seat under an awning for that nine-inning baseball game.
Remember that kids need protection too. Make sure they're also wearing their sunglasses and hats.
There you have it. Simple tips to help keep your eyes healthy in July and beyond. A summer of fun is in sight – as long as you take care of yours!
Check out these links for more information:
Find more details here about how UV light can harm your eyes – and how you can help prevent this. Courtesy of the American Academy of Ophthalmology.
Discover six tips to help protect your eyes from the sun, in this article from Carle Health.
Learn why sun protection is important – for your eyes and more – in the Reid Health blog.