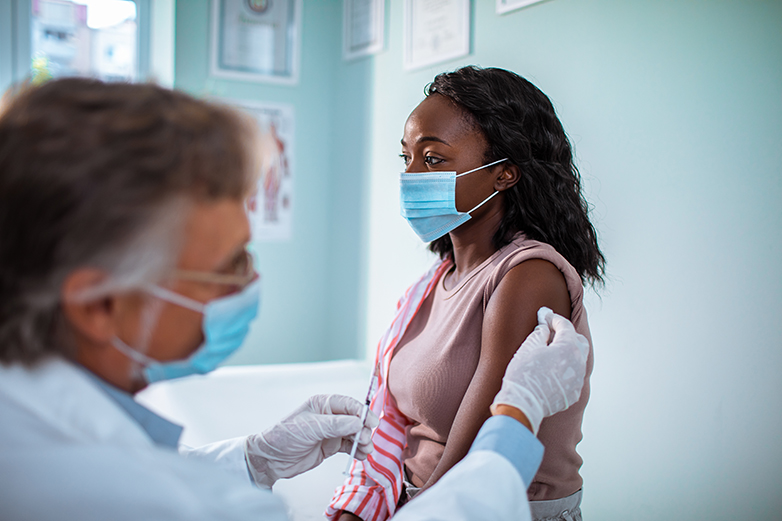 Vaccines give you and your family the power.
August is National Immunization Awareness Month – and this year more than most, we're aware of the power of vaccines to keep us, our families and our entire communities healthy. Since January, millions worldwide have received COVID-19 vaccines, saving an uncountable number of lives. Yet many more still need to be vaccinated against COVID-19 before the pandemic becomes a thing of the past. And with school starting and flu season arriving, we're reminded that there are many other vaccines we – and our kids – need to stay healthy too. Read on for more information.
COVID-19 Vaccine
We'll keep it short because you've heard it all year – but that's because of how important it is. If you haven't yet done so, get the COVID-19 vaccine. And encourage your family and friends to get theirs. The vaccines are safe and effective. They'll not only protect you, but also slow the spread of the disease in our communities. To end the pandemic, we need as many people vaccinated as possible. For all you need to know about the COVID-19 vaccines, visit here.
Get your yearly flu vaccine.
With COVID-19 still around, getting your annual flu vaccine is more important than ever. If we all can work together to reduce the number of people who get the flu, doctors will have more hospital beds and resources for those with COVID-19.
Plus, it's always important to get your flu shot. According to the Centers for Disease Control and Prevention (CDC), flu shots prevent millions of flu-related illnesses and doctor visits each year – and save thousands of lives. They're important for adults of all ages and children too. And when you get vaccinated, you're not only protecting yourself but also those you come in contact with. With few exceptions, everyone 6 months old and above should get a flu shot every year, typically in the early fall when flu season begins. To find all the information you need about the flu and flu vaccines, visit here.
Keep your kids up to date with all their vaccines.
Vaccines are very important for keeping children healthy – and there are many different shots kids should get. Luckily, the CDC has provided helpful resources that list the vaccines kids need at what age. Check out this easy-to-explore webpage or page 2 of this guide (both have the same information) to see the full list of shots children need and when to get them. These vaccines are safe, and they work – they're vital for keeping your kids healthy and well. Always feel free to talk to your child's doctor if you have any questions.
It's also important to know that state and local laws usually require children to have received certain vaccinations before they can attend school. Exceptions are usually very limited. To find out what vaccines your child needs before enrolling in school, you can call the school or school district, visit your state's (and/or your community's) public health department website or visit this helpful site from the CDC.
And remember – adults need vaccines too!
Immunizations aren't just for children – to stay healthy and avoid illness and disease, adults need to stay up to date on their vaccines too. In addition to the COVID-19 and yearly flu shots, there are many other vaccines adults should get. For example, did you know there's a safe and effective vaccine that prevents shingles? Visit this CDC webpage for all the information you need to know about vaccinations for adults, and check out this list of what shots to get and when. Finally, listen to our podcast episode, "5 Important Vaccinations for Adults – and When to Get Them."
As they say, an ounce of prevention is worth a pound of cure. Help keep you and your family healthy, and – as always – talk to your doctor about any questions you may have.
For information on coverage and costs (if applicable) for specific vaccines, please see your health plan documents or call the number on the back of your member ID card. We're always glad to answer any questions you may have.
If you want help managing your vaccine and preventive care scheduling, learn more about what health coaching can do for you.
Interested in learning more? Check out these links: