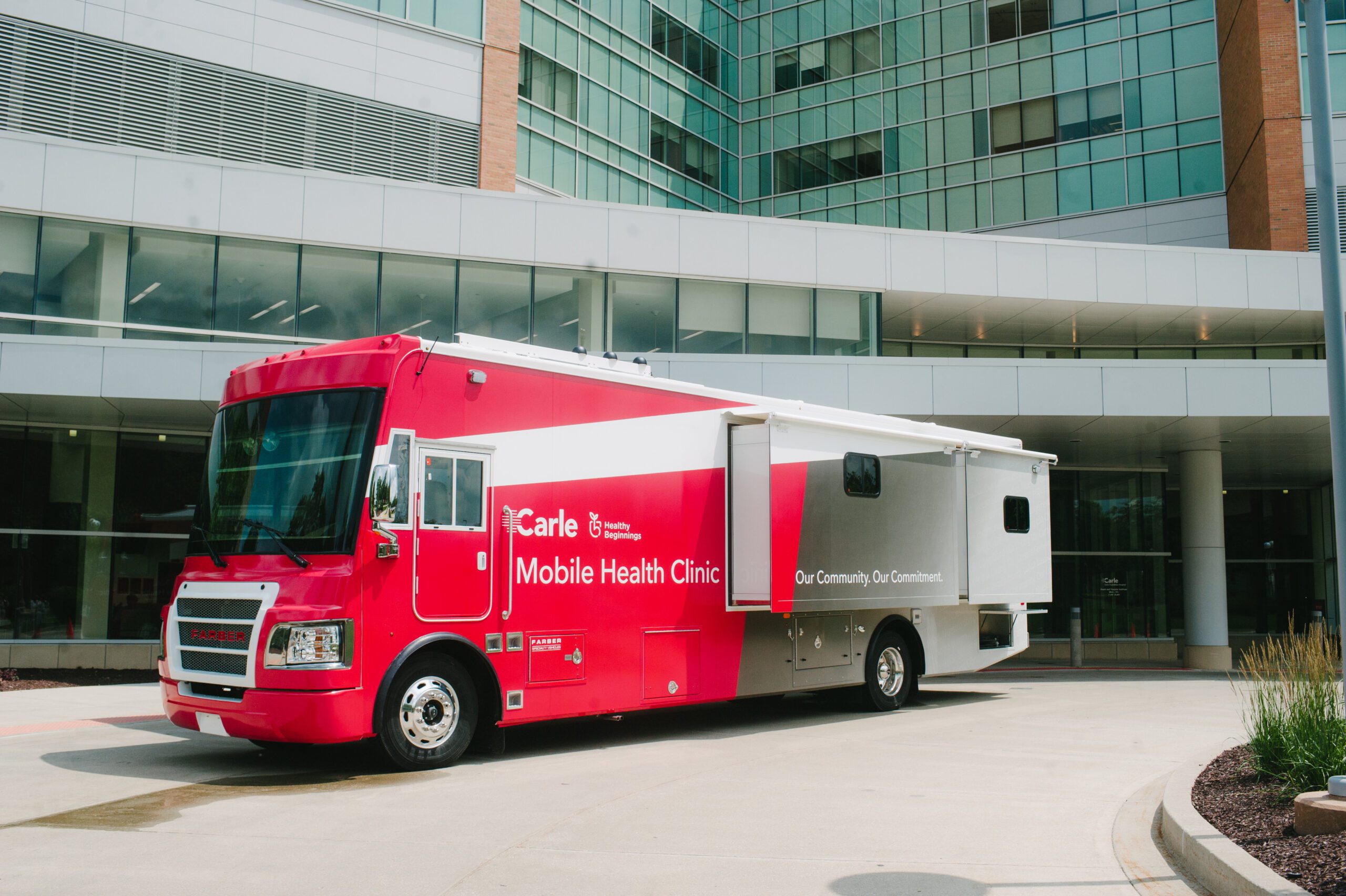 As the weather gets better, we're all spending more time outdoors. And many of us are taking advantage of the sunshine to get more exercise. For a large number of us, though, these activities often mean dealing with asthma or allergies. For this special edition of our blog, we brought in an expert to chat about these common conditions.
Tess Bailey, MD, FAAFP, is associate medical director for Community Health Initiatives and assistant medical director for Convenient Care at Carle Health. She lives with asthma and loves helping others manage their conditions to live their healthiest lives. Below, she gives advice about managing your asthma and allergies, and talks about the work she's doing to help others in her community.
Why is educating the community about asthma and allergies so important?
Dr. Bailey: Asthma is not just for kids – it can develop at any age. And many cases of asthma go undiagnosed. Over time, poorly controlled asthma can cause damage to lungs and airways. But it can be controlled with medication and avoiding triggers, and it's important to remember that it sometimes takes a few visits with your doctor to discover what treatment works best for you.
Having an allergy or asthma attack without rescue medications can be dangerous, or even deadly. You should keep inhalers and, if prescribed, auto-injectors with you at all times, and teach those close to you how to use the medications in case you need assistance. It's also very helpful to wear an alert bracelet.
What are the most important things everyone should know about living with asthma?
Dr. Bailey: While there isn't a cure for asthma, it can be very well managed. And it shouldn't hold you back from an active lifestyle!
Your doctor is a great resource for managing your asthma. Work with your doctor to come up with a treatment plan to track your symptoms, medications and triggers. If you haven't checked in with your doctor lately, now would be a good time with summer coming soon. When you're fully treated, you should be able to do most anything you want to.
What are the most important things everyone should know about living with allergies?
Dr. Bailey: While mild allergies are certainly an annoyance, symptoms can become severe. Some allergies are seasonal. In the spring, this might include grasses or tree pollen. For others, such as dust mites or pet dander, symptoms can continue throughout the year.
Symptoms include eye irritation, skin conditions (such as eczema) and nasal symptoms. Reactions to stings and certain food allergies can be severe.
The most important thing – when possible – is to know what your triggers are and eliminate exposure. This is especially important if your allergy is severe. If you have severe allergies, you may also need a rescue medication, such as an auto-injector – don't leave home without it, it can save your life! Wear a medical alert bracelet if directed by your doctor.
Finally, get help right away if:
You have severe nausea.
Your mouth, tongue or lips get very swollen.
You have trouble breathing.
You have trouble swallowing.
You pass out (faint).
It's important to know what might trigger an asthma or allergy attack. What are some common triggers?
Dr. Bailey: This is by no means the entire list, but here are some common triggers:
Animal dander from the skin, hair or feathers of animals.
Dust mites contained in house dust.
Cockroaches.
Pollen from trees or grass.
Mold.
Cigarette or tobacco smoke.
Air pollutants, such as dust, household cleaners, hair sprays, aerosol sprays, paint fumes, strong chemicals or strong odors.
Cold air or weather changes – cold air can trigger inflammation, and winds increase molds and pollens in the air.
Strong emotions, such as crying or laughing hard.
Stress.
Certain medicines, such as aspirin or beta-blockers.
Sulfites in foods and drinks, such as in dried fruits and wine.
Infections or inflammatory conditions, such as a flu, a cold, pneumonia or inflammation of the nasal membranes (rhinitis).
Gastroesophageal reflux disease (GERD).
Exercise or activity that requires a lot of energy.
Tell us about the Carle Mobile Health Clinic – and how it's been reaching out to those with asthma, allergies and other health conditions in the community.
Dr. Bailey: Mobile Health Services is part of the Community Health Initiatives at Carle, where we focus on breaking down the walls of healthcare. The mobile health clinic goes out into the community and provides checkups and health services to those who often find it harder to travel to see a doctor. While the clinic is equipped to see all patients seeking non-emergent healthcare, the main focus is serving the underserved – those living in neighborhoods farther from healthcare offices, with increased poverty rates and with high incidence of chronic conditions.
The mission is to create and sustain healthy communities by improving access to care and reducing health disparities in underserved communities. Partnerships have been developed with local churches, regional school districts, city leadership and other community organizations.
How has the mobile clinic helped educate – and treat – community members with asthma and allergies?
Dr. Bailey: The mobile clinic brings to patients the same expert education and care they'd receive if they visited the doctor's office. This is true for asthma and allergies treatment and care, as well as for countless other conditions. And we're thrilled that this spring we've added a specialty asthma clinic for pediatric patients – called the Robbins Asthma Specialty Clinic (in honor of retired pediatrician Benjamin Robbins, MD) – that brings asthma treatment to underserved areas around Champaign-Urbana. For children with asthma, testing and treatment will be available with the goals of disease management and reduced emergency department visits, hospitalizations and ICU encounters.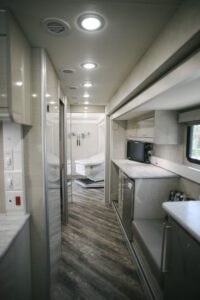 On a separate but similar note, tell us about the Healthy Homes research you're engaged in with the University of Illinois.
Dr. Bailey: Healthy Homes is a collaboration between the University of Illinois Healthy Home Evaluators and two Carle programs/services: our Healthy Beginnings initiative and our nurse home visiting service. The project is led by Paul Francisco at the University, and its goal is to improve health – including asthma management – in our community. Evaluators visit homes and look for triggers for asthma and reactive airway disease – and for many other health and safety hazards. And thanks to generous funding from the U.S. Department of Housing and Urban Development, the evaluators will also be able to mitigate or resolve certain triggers they find. Additionally – both before and after any interventions by the evaluators – our Healthy Beginnings nurse will visit the family's home to work with them to evaluate asthma symptoms and control. It's personal, vital outreach focused especially on underserved families. You can visit this page for more information.
Finally, any tips for people with asthma and allergies on how to stay active and healthy, especially outdoors?
Dr. Bailey: Absolutely! Here's a short list:
Improving health in other areas of your life may improve allergy and asthma symptoms as well, so make sure to: take your medications as directed by your doctor; drink enough water; get enough exercise (and work with your doctor to see what type of physical activity is best for your age and health condition); take care of your mental health; and eat a low-inflammatory diet with plenty of fruits and veggies (especially leafy green ones), and limit your grains, processed food, dairy and alcohol.
Don't smoke. Stay away from all tobacco exposure and other types of smoke, including vaping.
Camping and grilling are lots of fun, but wood smoke and other fires can be triggers.
While keeping your house clean prevents dust from becoming a trigger, remember that strong cleaning solvents and aerosols can also be triggers. Strong perfumes can be triggers as well.
When coming indoors after outdoor activities, shower and change into new clothes before sitting on furniture or bedding.
Wash sheets and especially pillowcases frequently.
Keep pets out of bedrooms.
Change the filter for heating and air conditioning units at least once a month.
Use allergy-proof flooring, bedding and pillow covers.
Fix any leaks to prevent the growth of mold.


Asthma and allergies do not need to stop you from living a healthy, active life – just be smart and follow certain tips, and you'll have worlds of fun both outdoors and in.
Short biography of Dr. Bailey:
I grew up in Hoopeston, in east central Illinois, and am proud to be a Cornjerker! I attended the University of Illinois, and after receiving my BS in biology and an MS in entomology (the study of insects), I worked at the University of Kentucky Entomology Department in their extension program. I went back to the U of I for medical school, followed by the Family Practice Residency at Carle. I was chief resident from 2001 to 2002; a primary care doctor for 10 years in Monticello; and now have been at Convenient Care for nine years and Community Health Initiatives for two years. I live with asthma and recall as a child how scared and helpless it felt to see my older sisters having asthma attacks. I love having the opportunity to work with patients to manage and take control of their conditions.
If you need help managing your asthma, our health coaches and care coordinators can help. Give them a call at the number on the back of your health plan ID card.