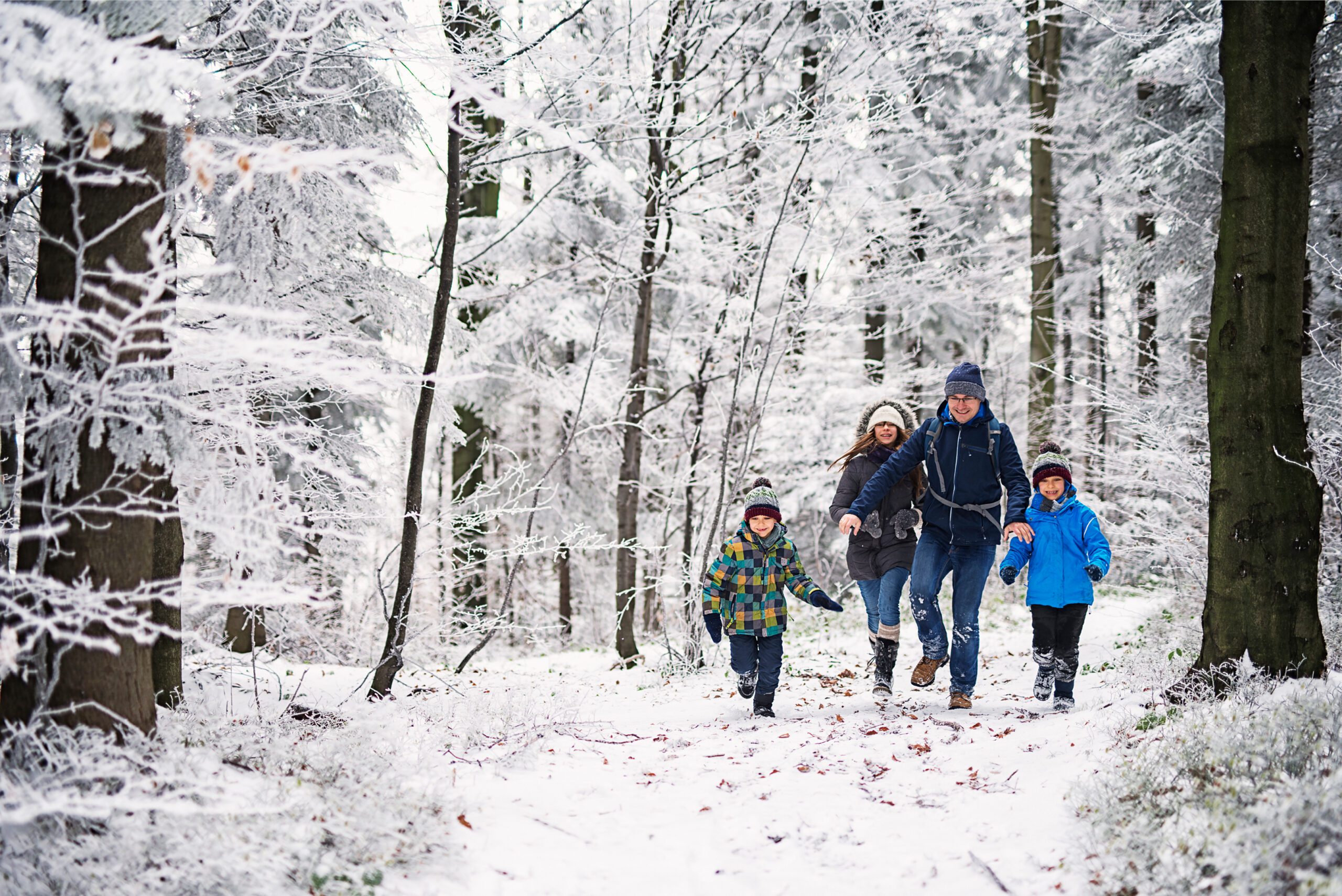 Winter – short days, cold temperatures and frigid landscapes. For many of us, finding ways to stay physically active becomes more difficult during these months. A lot of us also find it harder to stay mentally upbeat and positive. We can help. This winter, try these tips to help you stay healthy and well this season.
Physical Health Tips
If you haven't already, get your yearly flu shot. You need one every year to help avoid that season's virus.
Get your exercise. If you love walking, running, biking or other outdoor activities during the warmer months, you might have to get creative – or simply head to the gym or use indoor exercise equipment for the time being. Here are some other thoughts:

Try out our workout videos at hally.com/category/fitness – we have ones for all ages and skill levels, and most can be done indoors.

Create your own indoor workout, without the need for fancy or expensive equipment. Situps, pushups, squats, lunges, crunches and more are all great. Do something you enjoy!

Housework – cleaning, dusting, vacuuming, fixer-upper projects and more – can get you up and moving.

Take extra laps around those big grocery and department stores when you're out shopping. Walking indoors can become a part of your weekly visits.

Join a dance, yoga or fitness class in your community. You'll even meet new friends.

Whatever you choose, make sure you talk with your doctor about the types of exercise that are right for you.

Try to eat healthy. Holiday celebrations might make that difficult, but try to balance out your meals and the types of foods you eat. Also, fewer fruits and veggies are in season, so grab your favorite dried, frozen or canned varieties.
Make it a point to sit less. Get up and move around between activities. Don't watch TV all night and all weekend just because it's cold outside. Even stretching can do wonders!
Watch out for ice and slippery surfaces. Fall risk increases during the winter months.
Mental and Emotional Well-Being
For any concerns you may be having with your mental or emotional wellness, talk with your doctor for recommendations, resources and more. They'll have the best advice for getting you any help you might need.
Create a "wellness list." Think of the things that make you happy – whether it's trying a new recipe, reading, drawing, listening to a favorite playlist or whatever else you enjoy – and write these down. Whenever you're feeling down, stressed or anxious, grab the list and pick something to do.
You can also start a "gratitude journal." It doesn't have to be anything fancy. Just keep a running list of things you're thankful for. It'll help center you during long, snowy days.
Stay connected with family, friends and others. Cherish your loved ones and the joy they bring you.
Follow good sleep habits. This has more impact on your well-being than you might realize.
Stay physically active – as mentioned above, this helps your mind as well.
Add light to your life. Combat long, dark winter days by turning on lamps and overhead lighting, especially in the morning and evening. Get a dawn-simulating lamp that brightens gradually in the morning before the sun rises.
Be easy on yourself. Know that "it's OK to not always feel OK." Everyone feels down and struggles with emotions – it just makes us human. Don't put too much pressure on yourself to always "feel happy."
Consider group or individual talk therapy if you're dealing with depression, anxiety or any other issues. These issues are very common, and many people find therapy helpful. If you're a member of one of our health plans, check out our virtual visits we offer through Hally® health, where we can connect you with a licensed therapist 24/7/365 from the convenience of your computer, smartphone or tablet. Call the number on the back of your health plan ID card for more information.
Ask your doctor for more tips. They're your partner in health and always want to help.
These winter weeks and months, make sure to take care of yourself. Stay active, treat yourself kindly and seek out any help and advice you need from others. You got this.
Interested in learning more? Check out these links:
For information on coverage and costs (if applicable) for vaccines, please see your health plan documents or call the number on the back of your member ID card. We're always glad to answer any questions you may have.