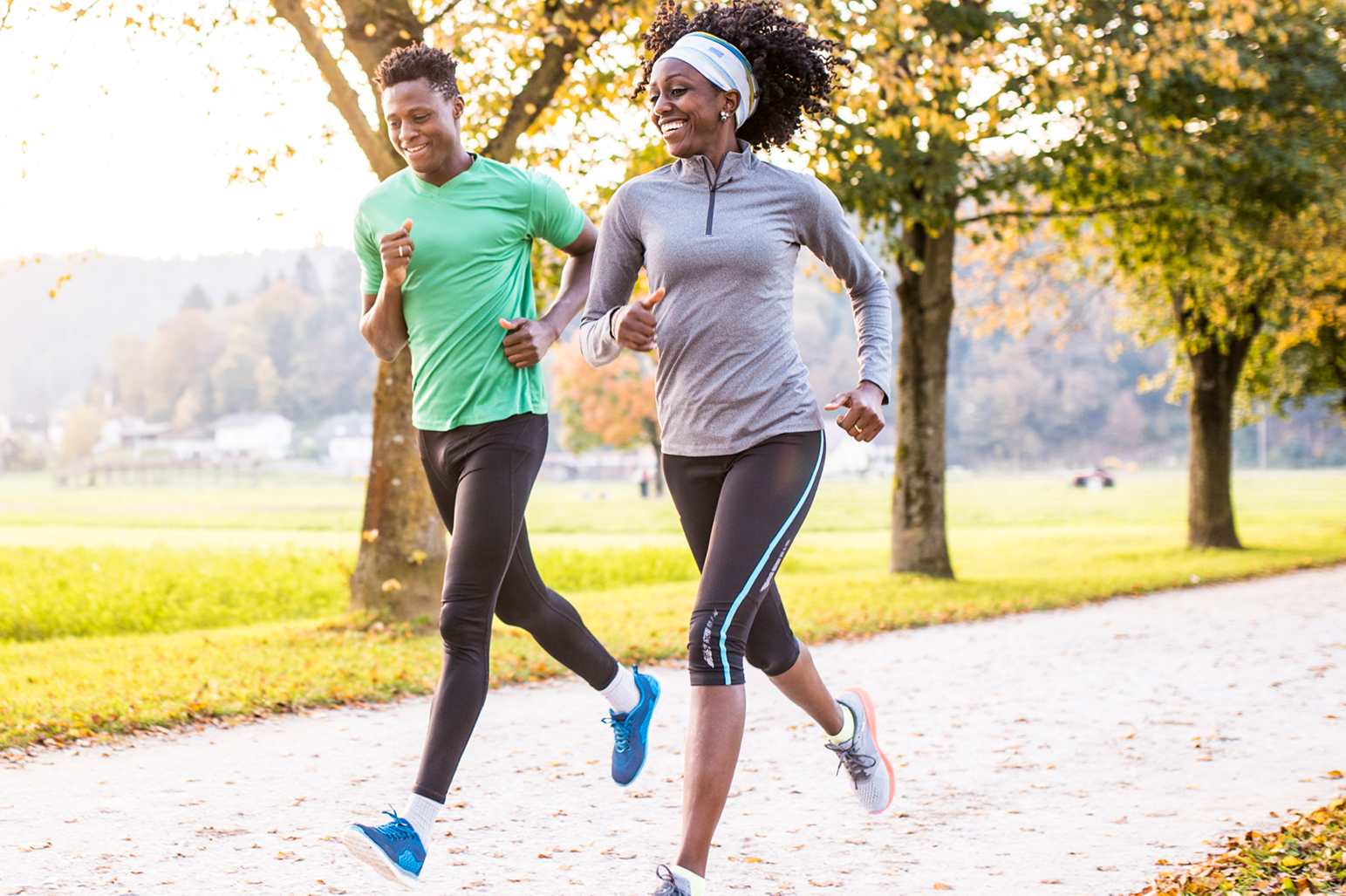 Have you ever thought about running a 5K? Or simply jogging for fun, or taking long strolls around your favorite local park? There's a reason so many people enjoy running, jogging and walking. Many reasons, in fact. Today we'll run though some of the health benefits. (Pun completely intended!) Get those sneakers ready – because once you read this article, you'll want to get up and get moving!
You could live longer.
Regular exercise just might add years to your life. A study in the Journal of the American College of Cardiology found that runners, on average, live longer and have a lower risk of death from many common diseases. Another study, this one by the American Cancer Society, found the same thing for walkers. The takeaway: move more and perhaps add years to your life.
It can help prevent illnesses and diseases.
Walking, jogging or running can't prevent diseases on their own, but they definitely help. Walking helps lower the risk of colon and breast cancer, heart disease and diabetes, according to the American Cancer Society. And a recent study in the British Journal of Sports Medicine found that runners have a lower risk of dying from cancers, cardiovascular diseases and other illnesses.
Your mind and mood can get a boost too.
Walking, jogging and running are also great for your mental and emotional well-being. According to the Anxiety and Depression Association of America, they can help reduce stress, enhance your mood, boost self-esteem, and relieve feelings of depression and anxiety. And that's not all – they can also improve your brain's overall cognitive function.
It could help you sleep.
Walking and running can even improve the ZZZs you get at night. According to experts at the Johns Hopkins Center for Sleep, aerobic exercises can improve the quality of your nightly rest and help you fall asleep quicker. Now that's a dream come true!
And much more!
Those are just a few of the benefits of running, jogging and walking. And we haven't even mentioned the simple joy an afternoon stroll or a trot with friends can bring on a beautiful day. So ask your doctor what's best for you, and then lace up those sneakers. Find a route for a mid-morning walk, discover a new jogging path – or even challenge yourself to that upcoming 5K you've had your eyes on.
Today's the day – you're only steps away from living a healthier life!
Discover more here:
Find fitness videos for all ages and skill levels, along with healthy cooking demos, tasty recipes, a monthly wellness podcast, health tips and tools, and much more right here on hally.com and at facebook.com/HallyHealth.
State of Illinois employees and retirees – check out these wonderful fitness tips, articles, resources and more from the Department of Central Management Services and its Be Well Illinois initiative. Most of these resources are viewable to the public as well!
PHMKGN21-SOI5k10kwhyrunbl-0721